---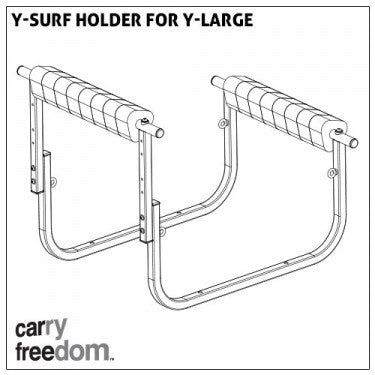 Carry Freedom Y Surf
---
Carry a surfboard, paddle board, kayak, ladder or cello. Long loads may need a longer tow arm. The holder fits on top of a standard Y-Large trailer (not included!).
Fits only on a Y Large Trailer
Maximum trailer load 90 kg/198 lbs.
Load on rails 20 kg/44 lbs.
Wheel size 20"
Board size 2.5 meters/98 inches (with standard tow arm)
With a Y-Surf you can cycle your surf board and all the gear you need to the beach and go on that epic ride.
The unique rail design means that the board cannot be blown around by the wind and there is still space for all your gear as well.
Our trailers - Every journey with a trailer is a journey without a car. By making "stuff carrying by bike" easy, we encourage more bicycle journeys.
| | | | | |
| --- | --- | --- | --- | --- |
| Trailer | Tow Arm | High position | Middle position | Level position |
|  Y large  |  Standard  |  max. 240cm - 7ft 10in  |  max. 250cm - 8ft 2in  |   max. 130cm - 4ft 3in   |
|  Y large  |  50cm |  max. 300cm - 9ft 10in  |  max. 320cm - 10ft 5in  |  max. 220cm - 7ft 2in  |
| Y large |  90cm |  max. 330cm - 10ft 9in  |  max. 350cm - 11ft 5in  |  max. 300cm - 9ft 10in  |
---
More from this collection